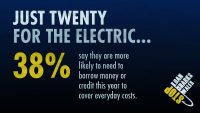 January 18, 2023 8:57 am
New research*, commissioned by Stop Loan Sharks Wales and The Welsh Government, confirms fears that current financial hardships may drive more people in Wales to borrow from illegal money lenders, more commonly known as loan sharks.
38% say they are more likely to need to borrow money or credit this year to cover everyday costs.
50% of those borrowing needed funds for everyday living expenses; of those, 66% for food and 53% to cover energy bills.
18-34s are most susceptible to targeting by illegal money lenders.
The research, which is the first of its kind in Wales, highlights the grim reality faced by Welsh communities in the current financial climate, with a quarter of those surveyed saying they considered borrowing money in 2022 to cover the cost of everyday essentials such as food and basic toiletries, and a further 38% say they are more likely to need to borrow credit this year.
Of the respondents who said they had borrowed money in the last 12 months, 50% stated they needed the funds to cover everyday living expenses, 66% of which reported needing the money for food, and 53% needing additional funds to cover the cost of their energy bills. Other borrowing needs included paying for school uniforms, school trips and childcare.
The data brings to light a harrowing truth, that many Welsh households need to borrow money simply to afford heating and eating. 44% of borrowers stated they have borrowed informally through friends, family or co-workers, increasing the risk of these financially vulnerable people falling victim to illegal money lenders.
Sarah Smith, manager of Stop Loan Sharks Wales says "We have always known that loan sharks prey on vulnerable people. This research confirms our fears that the current cost of living crisis is going to encourage predatory illegal lenders to offer loans to desperate borrowers, who may be refused credit elsewhere."
The survey also discloses that people aged between 18-34 are most susceptible to being targeted by illegal money lenders. The results suggest that this age group are most likely to consider borrowing money to pay for essentials and are also most likely to have engaged in borrowing in the last 12 months. Research also shows that 18–24-year-olds are most likely to have already used an unlicensed money lender but are less likely to know that this type of lending is illegal, so may unknowingly borrow from a loan shark.
With illegal lenders using social media outlets to target victims, younger people who are active on platforms such as TikTok, Snapchat and Reddit have a higher exposure to potentially illegal lending practices. These age groups are also less likely to say that interest rates were made clear to them at the point of borrowing, meaning it could be too far down the line before they realise, they have agreed to take a high interest, illegal loan.
Smith explains, "With users of social media platforms like TikTok and Instagram growing exponentially, so does our concern for the young people using these apps. We know that illegal money lenders will follow popular trends in order to root out new victims, with the cost-of-living crisis making their offer to lend money all the more tempting. We want to reach younger and more vulnerable people using these platforms to educate them on what to look out for and the dangers that are associated with becoming involved with illegal lenders."
The survey has revealed that illegal lending hotspots, including Merthyr Tydfil, Caerphilly, and Swansea, saw the highest proportions of respondents aware of potentially illegal lending in their area. The information highlighted in the research will allow Stop Loan Sharks Wales to delve into the heart of these vulnerable communities to raise awareness of the support available and to pinpoint the tell-tale signs of an illegal money lender.
Sarah Smith says that loan sharks can be deceptively friendly, offering to help people in financial need with a loan. There's highly unlikely to be any paperwork, and it's only later that the loan shark will start to demand extortionate repayments, using intimidation, threats, or even violence to extract more money from their victims. She says, "we have investigated loan sharks of all sorts, from physically intimidating men to innocent-seeming women in their 80s. Loan sharks come in all shapes and sizes."
She adds "anyone who has borrowed from a loan shark needs to know that they have done nothing wrong themselves, and we are here to help them."
In Caerphilly, an illegal lender known as "The Money Man", retained £92,000 over a 10-year period from a vulnerable elderly couple's benefits, leaving them with just pennies to live off. The lender was arrested with over £30,000 cash stuffed into a pillowcase in his home and was sentenced to 15 months' imprisonment after pleading guilty to illegal lending. With the help of Stop Loan Sharks Wales, the victims were awarded compensation totaling £66,000 and a further £25,000 was recovered in POCA (Proceeds of Crime Act).
Minister for Social Justice, Jane Hutt said: "We are still in the midst of an unprecedented cost-of-living crisis with too many people desperately worried about the months ahead. This time of year especially, following the festive break, the challenges can feel even worse.
"We are doing everything we can by providing targeted help to those who need it the most and through programmes and schemes which put money back in people's pockets but sadly, loan sharks will still prey on those suffering financial difficulties.
"I am pleased to be working with Stop Loan Shark Wales to raise awareness of the latest research into illegal lending in Wales. I would urge those struggling to turn to an affordable and responsible lender such as their local credit union."
Familiarising yourself with the common traits of an illegal money lender, or loan shark, could prevent you from becoming a victim:
May appear friendly and helpful at first
makes people pay back a lot more than they borrowed
rarely provides paperwork
often turns nasty
ends up taking possessions such as bank cards or passport for security
targets people in everyday places such as the school gates, over WhatsApp, social media or at the pub
grooms their victims who are often vulnerable people.
Stop Loan Sharks Wales protects and supports victims of illegal money lending and related crimes, as well as investigating and prosecuting loan sharks in Wales.
If you're worried about your own situation, or somebody you know, please contact Stop Loan Sharks Wales for safe, confidential advice and support. Call 0300 123 3311 or visit stoploansharkswales.co.uk.
NOTES TO EDITORS:
Stop Loan Sharks Wales is now the public face of the Wales Illegal Money Lending Unit.
RESEARCH*
Loan Sharks Wales 'Money Matters' Survey
RESEARCH
Research conducted by Strategic Research & Insight on behalf of Stop Loan Sharks Wales in October and November 2022. Research made up of 1,000 responses and included combined online panel and telephone methodologies.